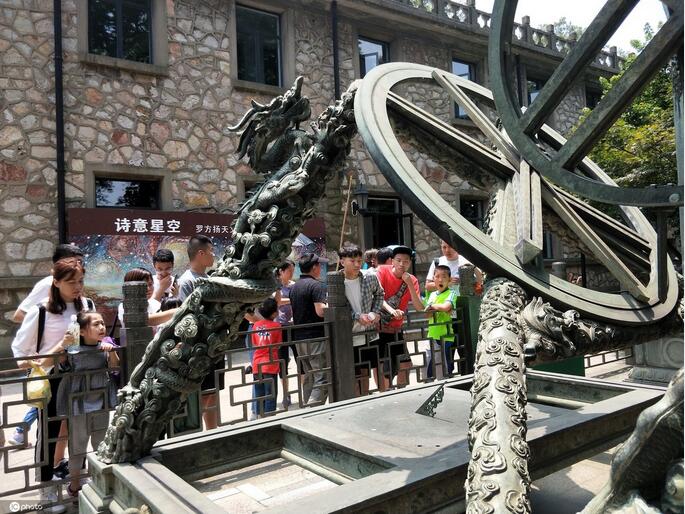 Tourists visit the Purple Mountain Observatory in Nanjing, capital of Jiangsu province on June 16, 2018. [Photo/IC]
Dubbed "China's cradle of modern astronomy", the Purple Mountain Observatory in Nanjing, capital of Jiangsu province, is the first modern astronomy research institute to be established by Chinese scientists.
In 1928, the Institute of Astronomy was set up, before changing its name to the Purple Mountain Observatory in 1950.
Visited by some of the country's top leaders, the observatory boasts four institutions, each consisting of several research groups, laboratories and observation bases. By the end of last year, it had 336 staff members.
The observatory's website states that it focuses on research into high-energy astrophysics, solar physics and space astronomy exploration technology, as well as star formation throughout the universe and related technology.
The key research programs also include artificial satellite orbital dynamics and probe methods, planetary science, ephemeral astronomy and deep space exploration, together with observational cosmology and galaxy formation.
The observatory has taken part in many national projects, including lunar missions. It plans to use a dark matter probe in space to solve major scientific problems and develop technology related to Antarctic astronomy. It is also striving to improve the system for observing objects and debris in space.
It has cooperated with universities and research institutes in more than 20 countries and regions.
The observatory, which also provides scientific education to the public, boasts a library housing more than 100,000 books on astronomy, the largest such collection in East Asia.
According to the website, the observatory receives nearly 200,000 visitors annually. In 2017, it was named one of the country's top 10 science and technology tourism bases by the China National Tourism Administration and the Chinese Academy of Sciences. (China Daily)