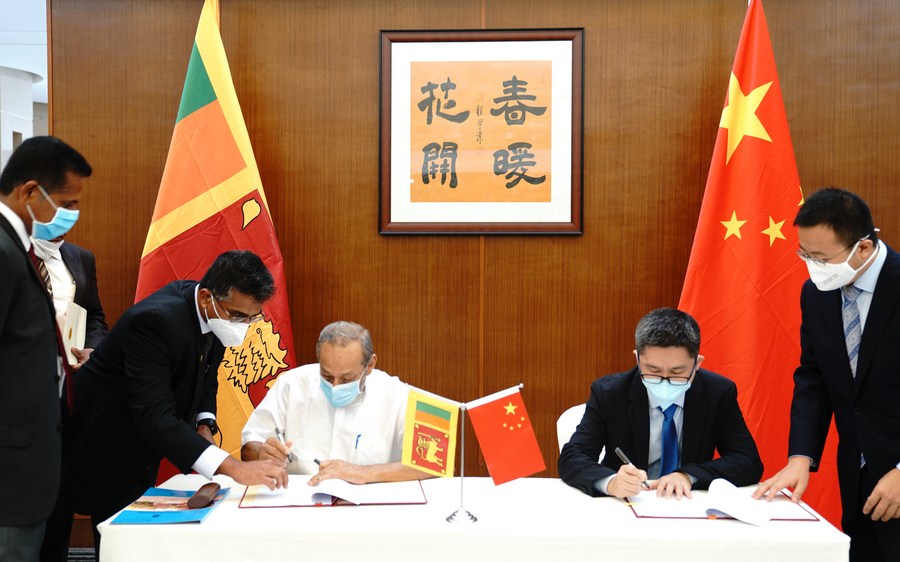 On Oct. 14, 2020, Hu Wei (2nd R), Charge d'affaires of the Chinese Embassy in Sri Lanka, and Vasudeva Nanayakkara (3rd R), Sri Lankan Minister of Water Supply, sign a supplementary agreement in Colombo on a Memorandum of Understanding on water research and technology cooperation, aimed at providing clean drinking water to several areas of the island country. (Xinhua/Tang Lu)
"May the Triple Gem bless you."
In April this year, Wei Yuansong, a professor from the Research Center for Eco-Environmental Sciences under the Chinese Academy of Sciences (CAS), received a sincere blessing from villagers in Sri Lanka as the Triple Gem in Buddhism is seen as priceless in the world.
As for Li Xueyuan, an engineer from Beijing-based rainwater utilization company Tidelion, coconuts always remind him of a friend in Sri Lanka.
On a hot day in 2017, a local worker decided to climb a coconut tree to fetch Li a large coconut as Li and his colleagues installed water purification facilities in a village near Anuradhapura, a sacred ancient city in Sri Lanka.
For nearly a decade, Chinese experts and engineers like Wei and Li and partners from Belt and Road Initiative (BRI) participating countries, have been building water supply projects to provide safe drinking water for many people and prevent the spread of water-borne diseases.
Sri Lanka is plagued by a chronic kidney disease with unknown etiology (CKDu). Local authorities suspect that the major cause of this kidney disease spreading in the island nation is the shortage of clean drinking water.
"We are happy to inform you that the number of kidney patients around has decreased, and job opportunities have been provided to some villagers," said the villagers from the Nildiya community in a letter to Wei.
In the first days after installation of a water-purifying machine in September 2018, 600 liters of purified water were purchased by local villagers daily. By this March, the number had increased to 7,500 liters per day, which "is clear proof of the people's enthusiasm and trust in this machine," said the letter.
The CAS launched the Program of China-Sri Lanka Joint Center for Water Technology Research and Demonstration in 2015. Several safe drinking water projects have since been completed in Sri Lanka. Attanagalla Water Supply Plant, one of the biggest China-Sri Lanka cooperation projects, completed civil work construction in May 2022. The project is expected to provide more than 600,000 residents with clean drinking water.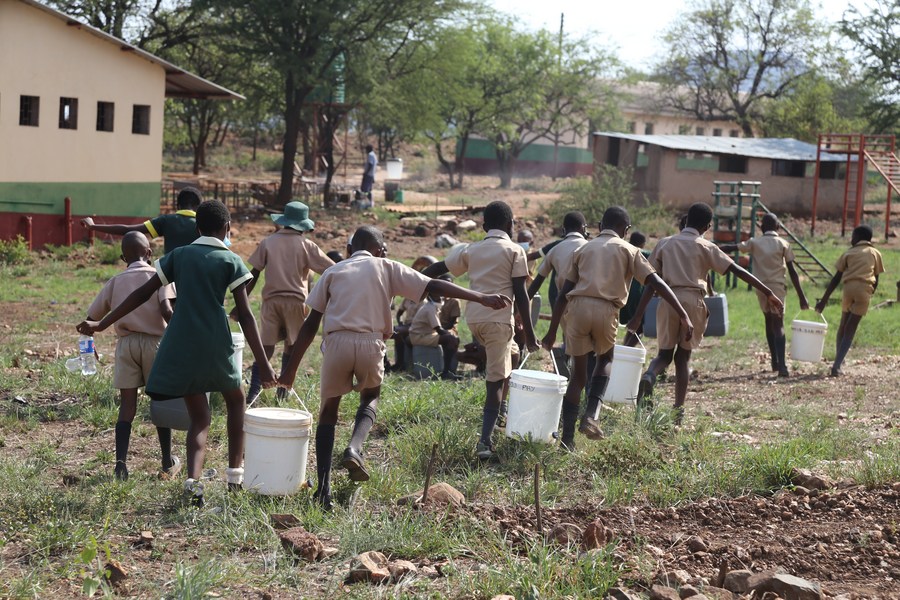 Students carry buckets of water at an elementary school in Gwanda, Matabeleland South Province of Zimbabwe, Nov. 3, 2021. China-funded borehole drilling projects are providing a lifeline to water-deprived communities in Africa where easy access to clean and safe drinking water remains a challenge to some populations on the continent. (Photo by Chen Yaqin/Xinhua)
In Kyrgyzstan, a lack of access to safe drinking water led to increased rates of hepatitis, typhoid, and malaria.
A type of integrated water purification station has been specifically developed for Kyrgyzstan by researchers from the Xinjiang Institute of Ecology and Geography under the CAS. To date, 11 such stations have been established in the Central Asian country, providing safe and clean drinking water for some 20,000 locals.
A total of 19 ecosystem observation and research stations have also been built across Central Asia, including in four Central Asian countries and also in Iran and Mongolia.
Gulshat Alieva is a nurse at Lower Serafimovka Nursing Home in Kyrgyzstan. "Since clean water started coming out, we got rid of dysentery. We no longer have any headaches with E.coli. All domestic water is clean. You notice how clear water flows when you open the tap," Alieva told Xinhua in a recent interview.
Li Yaoming, director of the CAS Research Center for Ecology and Environment of Central Asia (Bishkek), said that China's Xinjiang and Central Asian countries, including Kyrgyzstan, share common geographical features with interconnected mountains and rivers.
"Some of our water resources are shared, so we must collaborate in managing, utilizing, and responsibly developing these water resources. Providing clean drinking water and building infrastructures such as reservoirs and irrigation systems are indeed shared responsibilities," noted Li.
Meanwhile, the CAS not only puts drinking water safety as the core objective of the research but also regards training water professionals as its duty.
During the COVID-19 pandemic, Wei guided his students in Sri Lanka to conduct field research and data collection in that country. He and his students hold weekly video conferences to discuss research progress.
"Wei's work is also helping Sri Lanka's development because he is dedicated to mentoring Sri Lankan students and wants to train them to be pillars of water research in Sri Lanka," said Sujithra K. Weragoda, director of the China-Sri Lanka Research Grant Project.
Salamat Alamanov, a Kyrgyz professor at the CAS Research Center for Ecology and Environment of Central Asia (Bishkek), said that Kyrgyz specialists went to China to look at the operation of water purification systems. They have agreed with the CAS to jointly carry out work.
Wei said that both China and Sri Lanka are developing countries, and cooperation based on equality and mutual respect is the best way for the two countries to build trust in each other.