From October 9 to 13, 2023, the " Training workshop on customized CropWatch for Nigeria" was held in the Nigerian capital, Abuja. This event was jointly organized by the United Nations Conference on Trade and Development (UNCTAD), the Alliance of International Science Organizations along the Belt and Road (ANSO), the Aerospace Information Research Institute of the Chinese Academy of Sciences (AIRCAS), and the Nigerian National Space Research and Development Agency (NASRDA).
It is one of the important capacity-building activities supported by ANSO's CropWatch Innovation Cooperation Project (CropWatch-ICP) through South-South cooperation, focusing on South-South cooperation to empower developing countries in agricultural monitoring and enhance food information transparency.
The training focused on enhancing the monitoring capabilities of relevant stakeholders in Nigeria using the CropWatch cloud platform. Through this face-to-face training, it is expected that ground-truth data, including crop types, and management practices, will be jointly collected. Training course will be provided for the calibration of high-resolution mapping components for locally essential crop types in Nigeria, such as rice and maize based on the data collected at the field. The goal is to promote the implementation of the Customized CropWatch system in Nigeria.
Nigeria, the most populous country in Africa and among the top in population growth, prioritizes food security and the achievement of the zero-hunger goal for its sustainable development. The country places immense importance on this event, with 32 government officials and experts from nine departments, including the Ministry of Agriculture and Food Security, NASRDA, the Nigeria Meteorological Agency (NiMET), the Sustainable Development Goals Agency, and the National Bureau of Statistics, participating in the training.
Dr. Halilu Ahmed Shaba, Director General of NASRDA, highly praised ANSO, UNCTAD, and the CropWatch team for the continuous support of agriculture monitoring in Nigeria. He expressed great expectations for the technology provided by the CropWatch-ICP project to empower Nigeria's agricultural monitoring, enhance information availability for agricultural sector, and support government decision-making.
He pledged that NASRDA would provide all necessary support for the project's implementation to ensure the smooth execution of the CropWatch-ICP project, thereby providing space technology support for Nigeria's sustainable agricultural development. "Examining the positive impact of CropWatch in China highlights the critical role of food information in ensuring food security. We have agreed on the importance of adopting this methodology to provide essential data, enabling us to offer guidance to the general public and government. The goal is to facilitate training and customization, aligning the programme with Nigeria's unique agricultural landscape and initiatives,'' he said.
Dr. Matthew Adepoju, emphasized that integrating diverse advanced technologies, data, and information is crucial to achieve SDG 2 – Zero Hunger in Nigeria. With the support of the CropWatch-ICP project and CropWatch technology, Nigeria can comprehensively conduct agriculture monitoring using satellite remote sensing data, including agro-climatic conditions, crop growth status, crop health, and production outlook. NASRDA will continue to play its role in organizing, coordinating, and providing services, carrying the technology and data provided by CropWatch to all relevant stakeholders and user communities in Nigeria.
Itodo John, Deputy Director of Agric Research, Planning and Policy Coordination, at the Federal Ministry of Agriculture and Food Security, representing the Minister, said that, "At the second user conference held in July, we agreed on maize, rice, sorghum and millet to be covered under CropWatch. Through this training, we hope to gain a deeper understanding of the functionalities provided by the CropWatch platform and develop plans and strategies to better support data collection work."
During the opening ceremony, Associate Professor ZHANG Miao, a representative from CropWatch team of AIRCAS introduced the CropWatch platform, its advancements, and previous capacity-building activities conducted in developing countries. He also highlighted the main objectives and training courses for the week.
During the training, the CropWatch team from AIRCAS, including ZHANG Miao, Associate Professor ZENG Hongwei, and Assistant Professor ZHU Liang, provided training courses on in situ data collection for agricultural monitoring using GVG smart phone APP, visualizing crop-related information including meteorological data, crop growth condition and production outlook at multiple administrative units, high-resolution crop mapping and area estimation, as well as model calibration.
Three CropWatch team members, together with trainees, conducted a two-day joint field campaign over more than ten farms in Abuja Sate, collecting thousands of ground-truth crop type samples.
Following a five-day training program, all trainees have acquired essential skills in utilizing CropWatch for agricultural monitoring at various scales. They gathered ground-truth data, fine-tuned high-resolution crop classification algorithms, and established localized monitoring models for specific provinces in Nigeria through discussions and practical exercises. This achievement has empowered the deployment of CropWatch models utilizing Nigerian satellite and in situ data, thereby furnishing technical, platform, and information support to address food security challenges and work towards achieving the goal of zero hunger.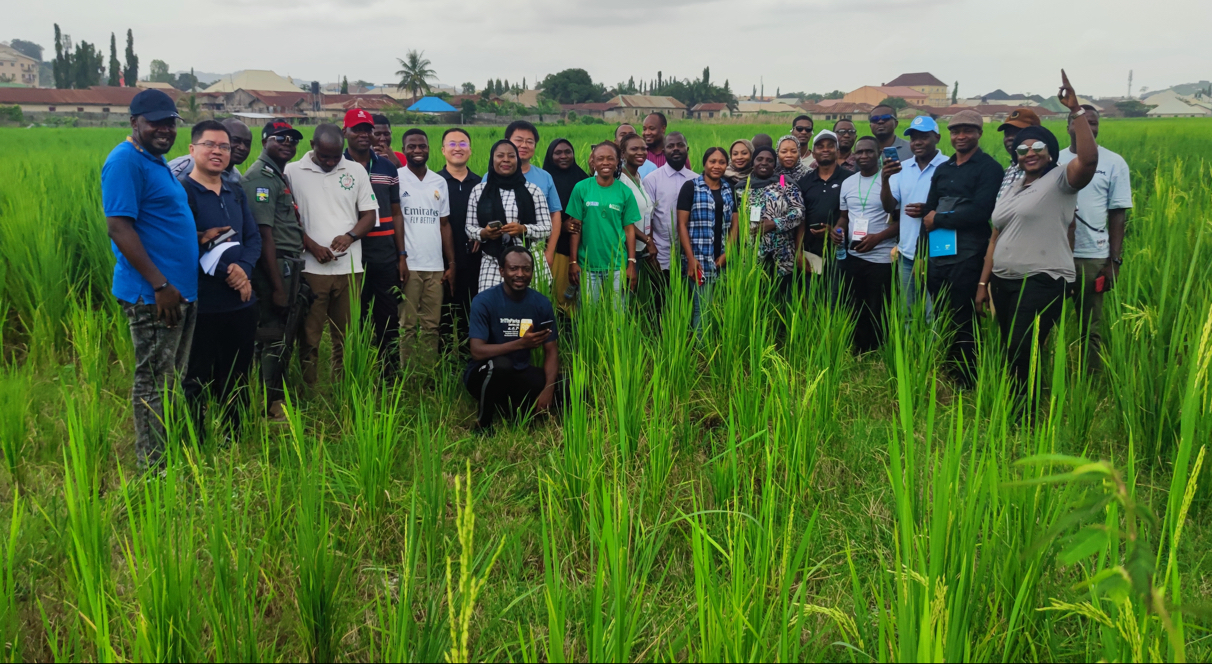 On-job training using GVG smart phone app and joint field work. (Image by AIR)
At the closing ceremony on October 13, Dr. Matthew Adepoju delivered the closing remarks on behalf of the DG of NASRDA. He stressed that this technical training is just the beginning of the journey to customize CropWatch for Nigeria. In the future, NASRDA will collaborate with relevant Nigerian departments to garner more support and facilitate the effective implementation of the customized CropWatch system in Nigeria. This endeavor will continue to play a pivotal role in supporting the nation's food security goals.
Dr. Rakiya Babamaaji, the coordinator of CropWatch for Nigeria at NASRDA, has been called upon to draft the next steps in action plans. These plans will further strengthen the partnership between NASRDA and CropWatch to drive progress and contribute to food information and informed decision-making for Nigeria's food security.
The Nigerian Ministry of Agriculture and Food Security, as well as the Ministry of Water Resources, are eager to deepen their collaboration with the CropWatch team. They aim to expand this cooperation to other agricultural sectors, including livestock and water resources.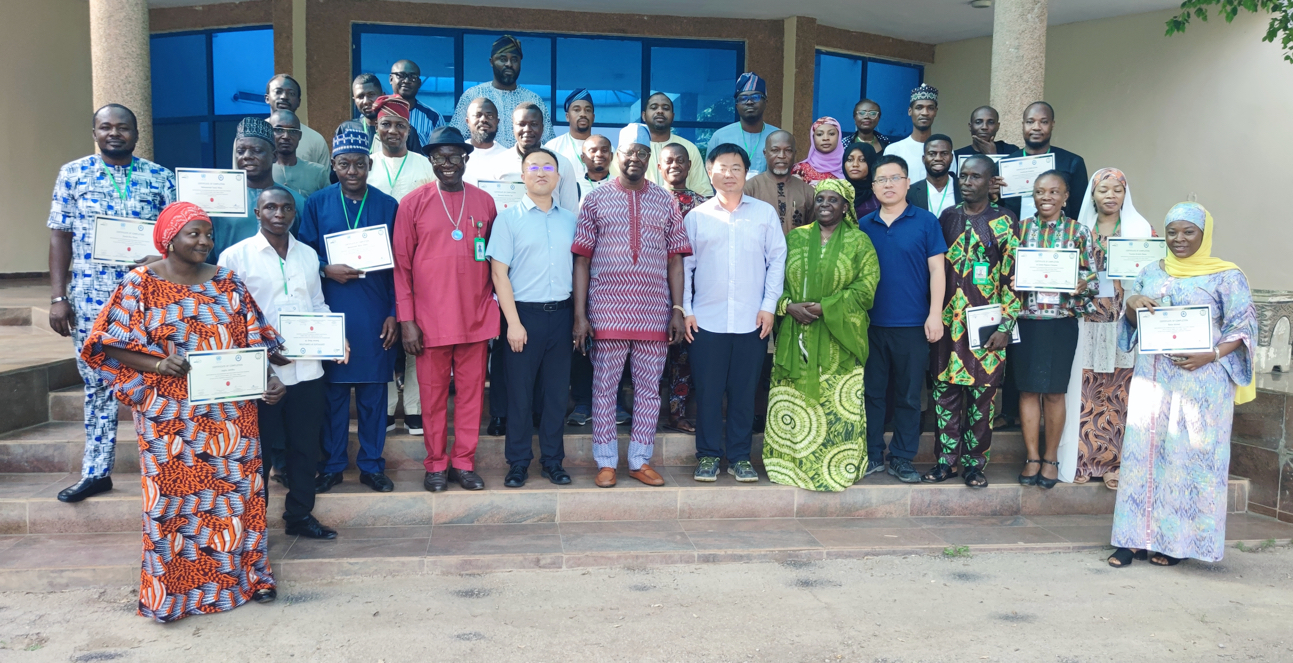 The closing ceremony of the training workshop. (Image by AIR)