Recently, a research team led by Prof. LIN Wenchu from the High Magnetic Field Laboratory of the Hefei Institutes of Physical Science found that CUDC-907, a dual phosphatidylinositol 3 kinase (PI3K) and dual Histone deacetylase (HDAC) inhibitor, exerted antitumor effect in small cell lung cancer (SCLC). And the effect was more prominent when combined with olaparib, a common clinical drug.
Targeting DNA double-strand breaks (DSBs) repaired pathways with dual HDAC-PI3K inhibitors was a promising strategy to improve Poly ADP-ribose polymerase inhibitor (PARPi) efficacy and therapeutic benefits for patients with SCLC.
SCLC, characterized by rapid tumor growth and early metastasis, represents one of the deadliest cancer types among all solid tumor malignancies. Nearly all SCLC patients eventually develop resistance to previously effective therapies, leading to a five-year survival rate at less than 7%.
In this research, CUDC-907 treatment downregulated MYC paralogs and FoxM1, induced G1 cell-cycle arrest, and impaired DNA double-strand break (DSB) repair capacity in SCLC cells, which produced a potent antiproliferative effect.
Furthermore, they showed that CUDC-907 treatment enhanced the therapeutic efficacy of PARP inhibitor olaparib in a panel of SCLC cellular models and a PDX model.
Mechanistic investigations demonstrated that CUDC-907 synergized with olaparib through the blockade of DSB repair pathways and downregulation of MYC paralogs and FoxM1.
This research was supported by the National Natural Science Foundation of China, the Science and Technology Major Project of Anhui Province, A portion of this work was supported by the High Magnetic Field Laboratory of Anhui Province.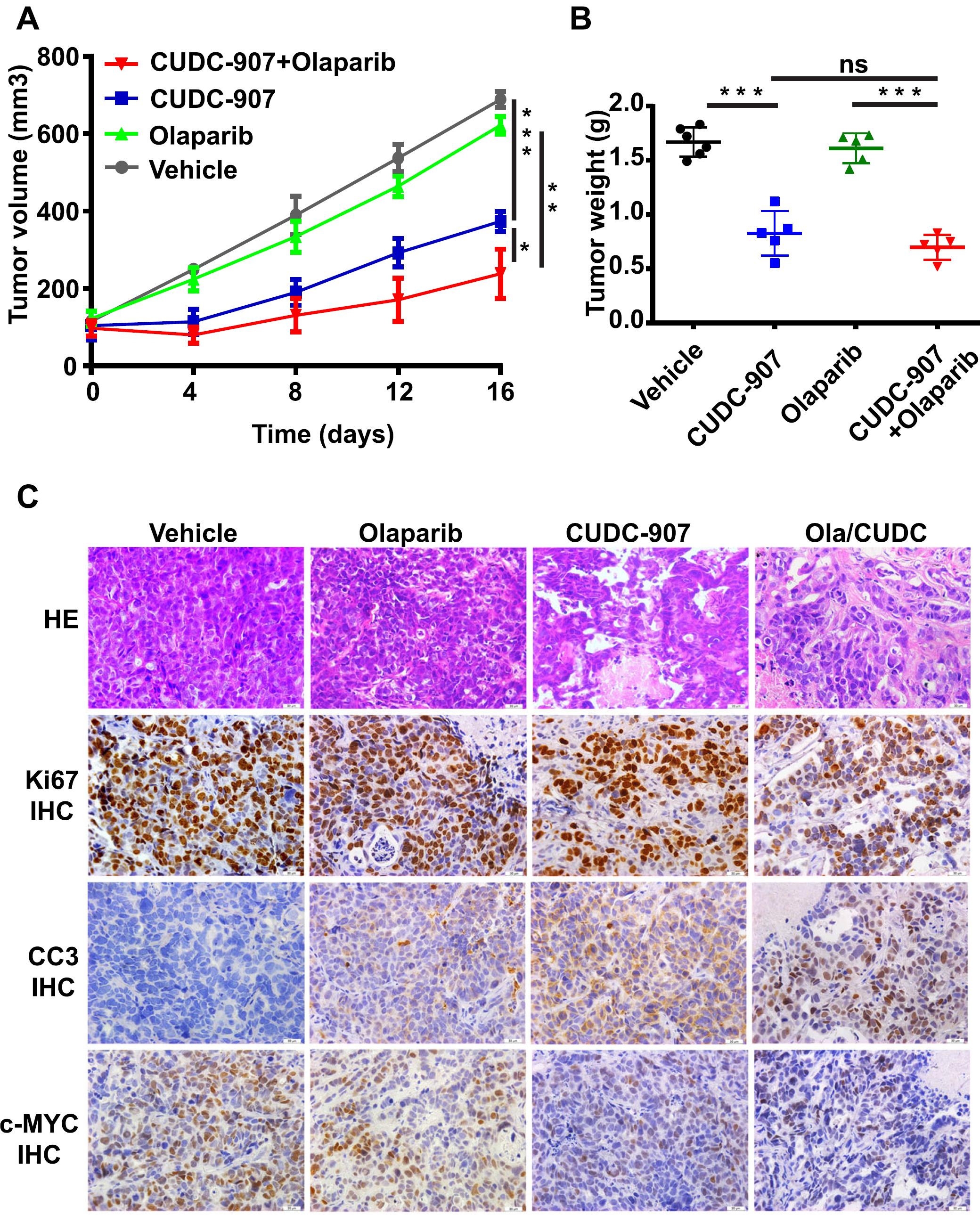 The combined use of CUDC-907 and olaparib effectively suppresses tumor growth in a PDX model of SCLC (Image by MA Liying)