The Pioneer Initiative of the Chinese Academy of Sciences (CAS) is a direct result of President XI Jinping's visit to CAS in July, 2013. It is also an action in response to the call of the new Chinese government for deepening reform of China's science and technology (S&T) structure and mechanisms.
In addition to highly praising CAS as a national strategic research force during the visit, President XI encouraged it to strive for more contributions in the future to the needs of China's social and economic development by a better play of its combined and integrated strength in research, education and strategic advice. He particularly urged CAS to take the lead in research & innovation, education, strategic advice and the making of a world-class scientific institution.
Inspired by his advice and in light of the government's call for deepening reform in S&T structure and mechanisms, CAS made an in-depth analysis of itself and concluded that a big gap exists between its overall scientific layout, innovation capacity, cultivation of talent, think-tank development and S&T structure and mechanisms and the capacity it needs to meeting the needs of the country and to entering into the rank of world-class. It further concluded that a major reform is needed to empower CAS the capacity to continuously make important contributions to the needs of China's social economic development and to take the lead in the four aspects as mentioned above.
Focused on various bottlenecks and barriers for discovery and innovation, the Pioneer Initiative aims to effectively address them through a series of reform actions. It gives a particular emphasis on reforming the S&T structure and the organization and undertaking of research in CAS. It is expected to significantly optimize CAS institutes and scientific alignment for major discovery and innovation and to bring all the key factors of innovation including the vigor, talent, equipment and facilities, projects and institutes into fuller play. The Initiative is scheduled to be accomplished by 2030.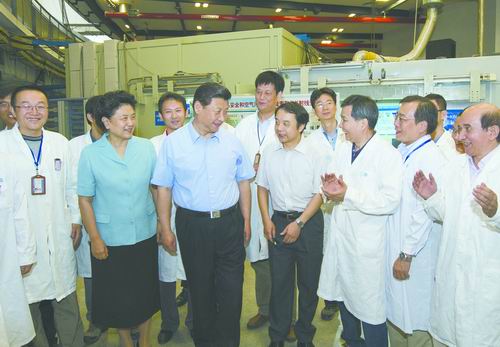 President XI Jinping's visit to CAS in July, 2013 (Image by Xinhua)