The International Training Program of Climate and Environment Change on "The Belt and Road" kicked off on May 28, 2018, aiming to enhance academic exchanges on earth environment science along the Belt & Road countries.
19 young scholars from Belt and Road Countries participated in this training program, and received a certificate of completion.
Organized by The Belt & Road Center for Earth Environment Studies (B&RCEES), Institute of Earth Environment of Chinese Academy of Sciences, the 15-day program enhanced their research capacity and promoted cooperation in the field of climate and environmental change.
The training program took a integrated teaching method including classroom learning, laboratory visit, field work, and interviews. During the process, the trainees can get an overall view of theoretical knowledge, experimental methods and frontiers of climate and environmental change research.
"This program offers us an opportunity to present what we are doing, to get suggestions and feedback on our work and to learn a great deal about research from the world class scientist. This encourages and helps us to establish and to promote our joint research in the future effectively," said Dr. Sakonvan Chawchai from Chulalongkorn University, Thailand.
Many trainees expressed their willingness and enthusiasm on further promoting academic cooperation between the Institute of Earth Environment and their own institutions.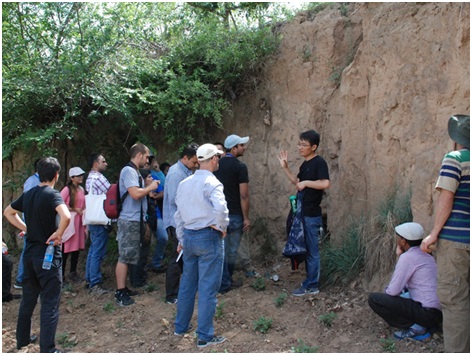 Associate Researcher KANG Shugang explains the causes of Loess (Image by IEECAS)