Now in its fifth year, with more than 100 scientific publications under its belt, the Climate Science for Service Partnership China (CSSP China) has helped improve understanding of the effects of climate change on society and is forging new ways to reduce the risks associated with climatic extremes.
Research highlights appear in a special issue of Advances of Atmospheric Sciences.
CSSP China was launched in 2014 as a flagship project of the Newton Fund (channeled through the UK-China Research and Innovation Partnership in China). CSSP China partners include China Meteorological Administration's National Climate Centre (CMA NCC) and the Institute of Atmospheric Physics (IAP) at the Chinese Academy of Sciences, the Met Office and other key UK and Chinese universities and institutes.
"Over the course of many years, the scientific community has made significant advances in observing and understanding our planet's day-to-day weather and the longer-term climate," said Prof. Stephen Belcher, Met Office Chief Scientist and one of the coordinators for the collaboration.
"Alongside the scientific advances, society is becoming increasingly aware of, and perhaps more vulnerable to, weather-related and climate-related risks, such as loss of life arising from extremes of temperature, precipitation, wind, or water levels," said Prof. Peter Stott from the Met Office.
The special issue includes research papers of five connected categories ranging from how to improve monitoring systems to knowledge application through the development of models and climate projection systems and the joint development of prototype climate services.
"Climate services are sources of climate information to enable economic development and social welfare to be resilient to variations and changes in climate," Prof. Stott said.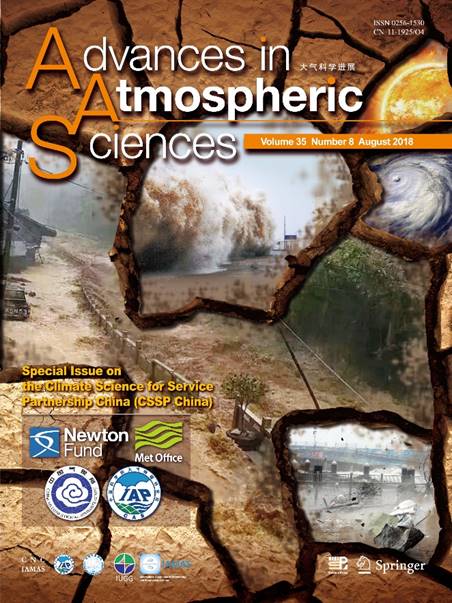 The cover of Special Issue on CSSP China (Image by Advances in Atmospheric Sciences)
"Through CSSP China we are building a joint framework that will be the foundation for future work together. I am confident that we can provide the information and support needed to help China and the UK to mitigate and adapt to the impacts of climate change," said Dr. SONG Lianchun, one of the guest editors from NCC.
CSSP China partners are now working hard to translate more of their research findings into applicable services that can help inform policy decisions, as well as better inform society in terms of preparedness for natural disasters of immediate or gradual circumstances.
"The ultimate goal of CSSP China is to develop and apply scientific understanding in order to enhance the provision of climate and weather resilient economic development and social welfare in China and the U K," said Prof. Belcher.