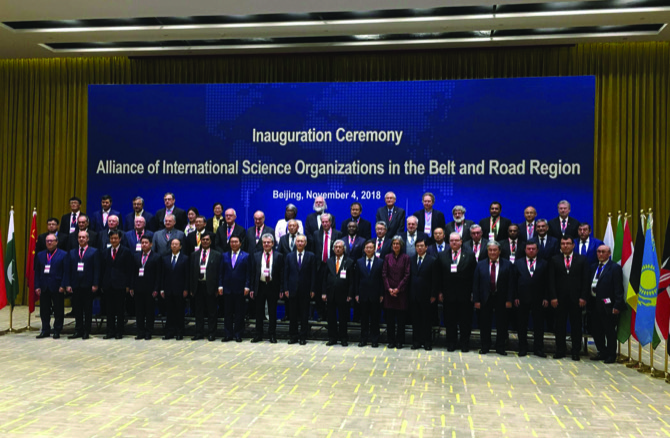 UM is among the first to join the Alliance of International Science Organisations in Belt and Road Region (Image by Macau Daily Times)
The inauguration ceremony for the Alliance of International Science Organizations in the Belt and Road Region, and the second international conference on science, technology, and innovation for the Belt and Road region, took place in Beijing recently.
The University of Macau (UM), along with 36 universities and research institutions, was among the first to join the alliance. According to a statement issued by the UM, the initiative "aims to strengthen its members' policies on science, technology, and innovation and to facilitate their respective development strategies, in order to initiate key collaborative projects on science and technology, as well as to nurture professionals in the areas of innovation and entrepreneurship."
In his letter to congratulate the alliance upon its inauguration, Chinese President Xi Jinping said that the Belt and Road initiative had been well received in the international community. Xi expressed his wish that the scientific communities in all countries of the region would work together and use the alliance as a platform to promote sustainable development.
The alliance includes several research institutions, including the Chinese Academy of Sciences (CAS), the Russian Academy of Sciences, the Pakistan Academy of Science, the United Nations Educational, Scientific and Cultural Organization, the Kazakhstan Academy of Sciences, Tribhuvan University, the Brazilian Academy of Sciences, the Academy of Sciences for the Developing World, the Polish Academy of Sciences, and the Hungarian Academy of Sciences.
UM Rector Yonghua Song attended the alliance's general meeting and a meeting of its executive committee on behalf of UM. Song also met with Bai Chunli, president of the CAS. During the meeting, Song gave Bai general information about UM, as well as informing him of its research achievements in recent years and his vision for the university's future. Bai shared information about the CAS and its strategy for internationalization. They agreed to strengthen collaboration and to establish joint labs in areas where both institutions enjoy a competitive advantage.
The theme of this year's conference was collaboration in science and technology and sustainable development in the Belt and Road region. The event attracted over 700 participants from more than 40 countries and regions in the Belt and Road network, including heads of universities and research institutions, representatives of international organizations, and world-renowned experts in the related fields. (Macau Daily Times)